Simple Blog Design: Tips for Simple and User-Friendly Site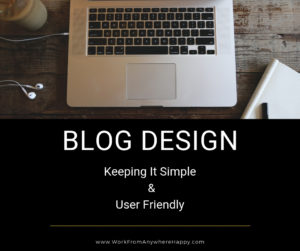 If you think of your blogs purpose it becomes easier to understand why your blog design is key. Your blog has one purpose, it's a tool for conversion.
If your readers find what they are looking for they are likely to take an action, such as subscribe, make a purchase, etc.
Complicate the blog's design and you can quickly lose potential readers.
We have less than 15 seconds to capture readers attention and keep them engaged, so most of us will…
Write a catchy headline?
Capture them with killer content?
Add beautiful images
[toc]While all those factors count for the quality of your blog, none of that will matter if people don't stay on your site.
But now we the purpose of our blog site. It's time to talk about your blog design.
Forbes.com says that in business interactions, we have seven seconds to make a good first impression (and that numbers' shrinking) so the same concept can also be applied to your blog.
With limited time people want results fast. If your visitors can't navigate your website easily to find what they want they will leave quickly moving onto the next.
Your blog design is key to make a good first impression. So, what exactly can you use to improve your design?
Utilize White-Space for Your Blog Site
White-space is just as it sounds, it's the white area's around your paragraphs, texts, and graphics. It not only helps break up your content but keeps readers? eyes on the content as they look down the page. Having a balance of white space and content on your blog give's your blog a clean appearance, eliminating overwhelm.
With space between each section it makes your site easier to navigate and to find exactly what he or she is looking for.
Format Your Blog Text for Easy Reading
Most blog visitors aren't going to read your content word-for-word. If you've made it this far it "tada" your awesome! But truthfully most people scan blogs, so is essential you format your text for easy reading. Focusing on the key points.
While using white space to break content into chunks helps with focus there are other methods to help readability as well as helping with seo such as:
Using H Tags
Writing focused headlines
Subheading to highlight key points
Keeping paragraphs short
Breaking up your content with lists
Using a table of contents for long articles
Offsetting or italicizing prominent quotes
Simplify Your Color Scheme
This is when less is more, too many colors or the wrong color, can distract the reader. While color can be catchy too many will make your site feel crowded and hard on the eyes.
Use color to draw your readers attention to one aspect on a page, such as a subscription form. This is the time to use one or two bold colors to highlight a particular section.
The best for your blog is to choose 2-3 main colors on your site and be sure your text is easy to read. Black text on white has proven time and again to convert the best.
Clean Up Your Blog's Sidebar Layout
One of the biggest mistakes is to have a cluttered side bar that takes away the focus. Be sure to clean up your side bar layout, this is a place you can help visitors navigate your site for optimal results. Eliminate unnecessary widgets and, stick to a few things that are useful in your sidebar:
A subscription form
Legal pages
Search
Links to categories
Social media
Keep ads in your sidebar to a minimum, if at all (this depends on how your monetize your blog),
De-clutter things like recent comment widgets, stats, calendars and anything that deflects from the simple design of your blog.
Organize Your Navigation Tabs
Organize navigation tabs will help simplify things for readers and help them quickly find what they're looking for.
Start by choosing the most important pages to display on your top menu "navigation bar". These will typically include your home, about, and contact pages. You can set other relevant pages as sub-pages that appear in a drop-down menu that appear when a user hover over that tab.
Make use of your menu options to create another bar for things such as relevant categories using sub categories and remember you can add link pages and links in the footer. Using your space well will make it a lot easier for users to find what they're looking for.
Use a Mobile Responsive Web Theme
With the fast pace of technology many people are using mobile apps to access the Internet more often some replacing desktop computers. Keeping inline it's essential to make your blog mobile-friendly, too.
Just as we've discussed the design for your blog the same applies for a mobile device. If your site isn't mobile compatible visitors can't read or click on links from their mobile device.
A responsive theme detects what type of device a reader is using and might resize images, adjust the navigation bar, sidebar widgets giving your reader an optimal experience whether they are accessing your site via smartphone, tablet or laptop.
Setting up a responsive website can be as simple as installing a new plugin such or installing a mobile responsive theme that's built for all devices.
Wrapping up our guide to Simple Blog Design
Keep these simple tips in mind and you can have a beautiful user-friendly blog design for your readers and, one that can increase conversion for you!
If you'd like to learn know how to start a money making blog I think you'll enjoy this Review on how to get started!
If you are looking for an attractive feminine theme for your blog (perfect for female blogs and coaches) you may like to check out – Best Feminine Themes for Bloggers.