SiteRubix Take a Look What's Possibly the Worlds Easiest WordPress Website Builder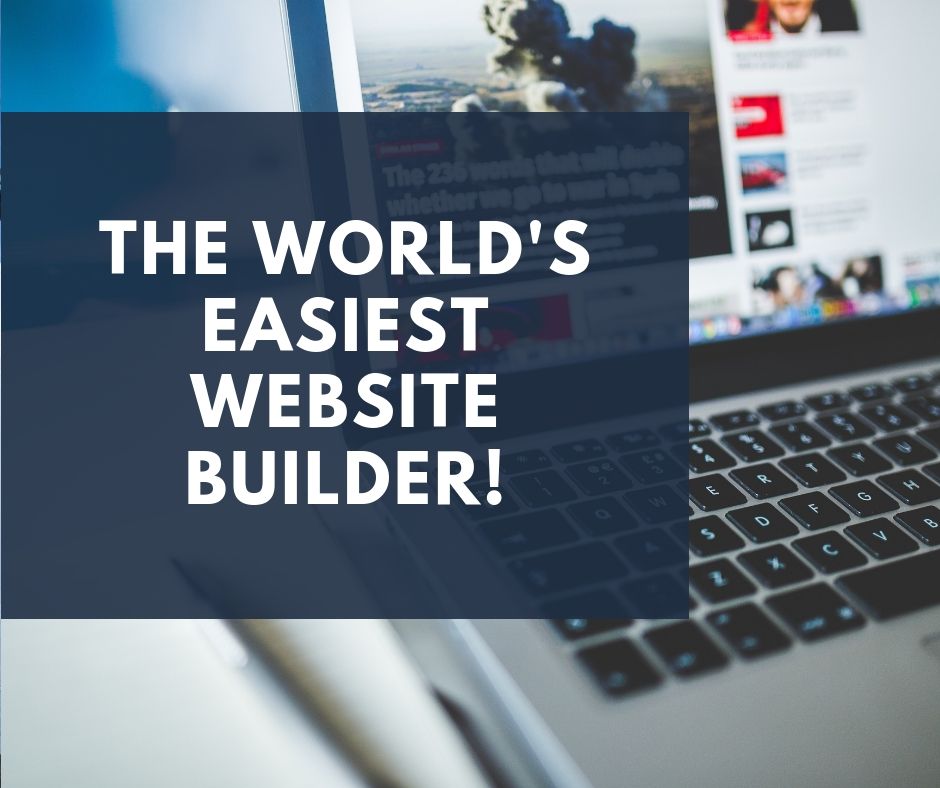 With the worlds easiest website builder you can have a beautiful website in minutes. I know that sounds simplistic but it really is that easy with SiteRubix.??
[toc]Powered by the Wealthy Affiliate platform, who provide training, support and the best tool for their community. Thousands of members use the site builder to create websites with ease so they can focus and grow their online business.
Every measure has been taken to eliminate tech overwhelm while using the robust WordPress platform. And, your website includes free hosting. In just 4 easy steps you can have a website up and running, even for FREE!
Build a SiteRubix Website in 30 Seconds Video
SiteRubix was built with the brand new beginner in mind, so you never have to worry about complicated tech stuff ever again.?
Build a Beautiful Website in 4 Simple Steps
It?s a four click process and here?s how to do it:
I have logged in to the Wealthy Affiliate with my email and password, take a look at the image below and you'll see on the left to see the words- Site-builder.? Next you'll follow the read arrows I placed in the example box and do? step 1 and 2.
Choose a domain name. If you have a name for your business you can use that, if not choose whatever makes sense for your business.??
Name your website. It?s wise to pick a name that describes you, your business or service.?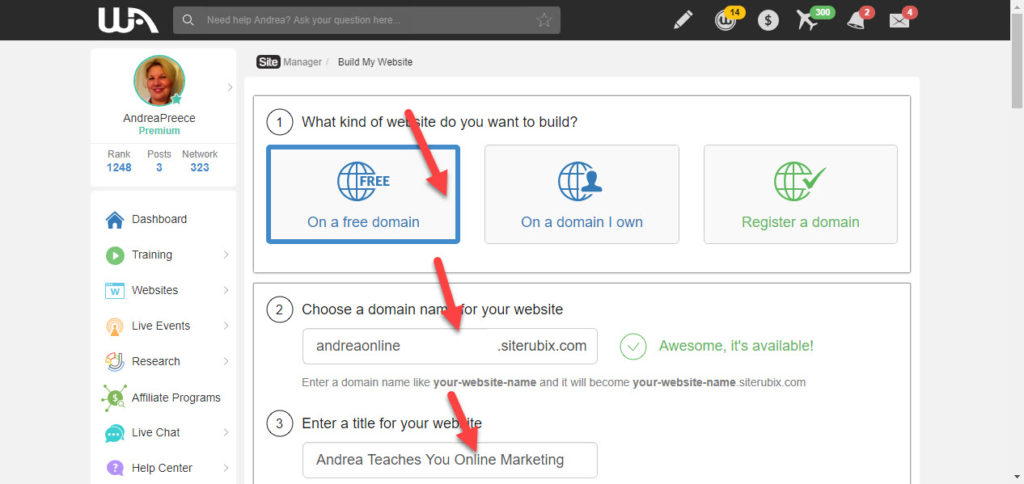 3. Choose a theme. Themes are the appearance of your website. It will give you an idea of how your site? will look when it?s live. If you want to change later that's easy.?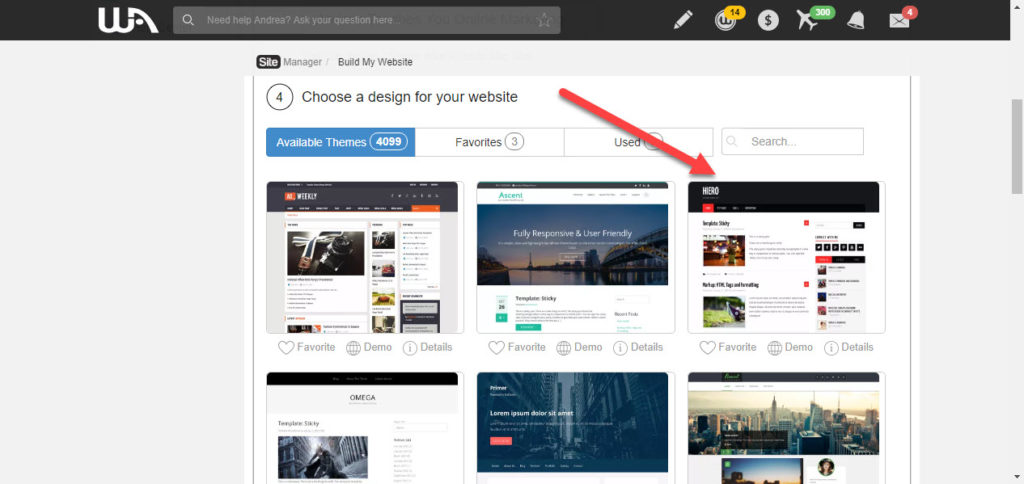 Now for the cool part – see the green button in the image below.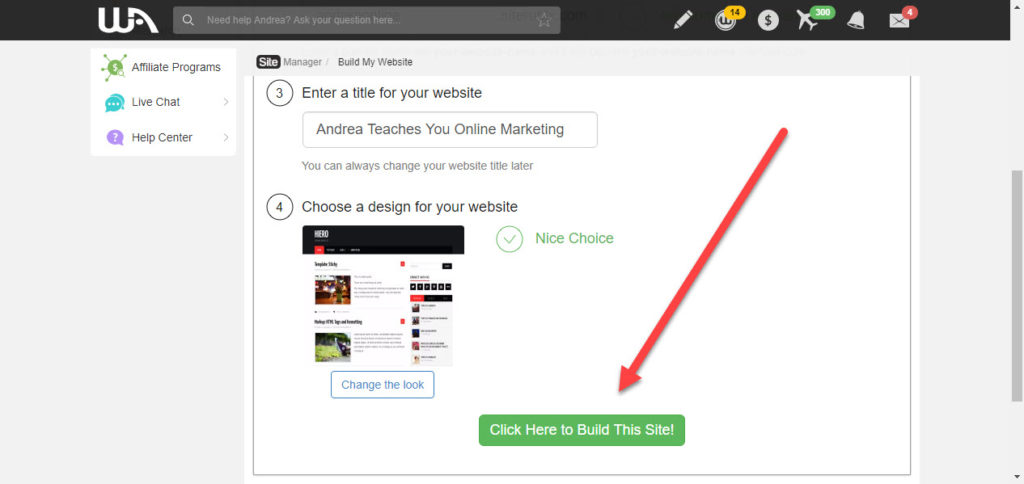 4. Click the ?build it now?, button, wait for 10,? 20, usually 30 seconds? and voila you have a website
In the image below you'll see you log in details (the red arrows) in the Wealthy Affiliate dashboard – click log in and you'll be takes to your WordPress dashboard as in the image below.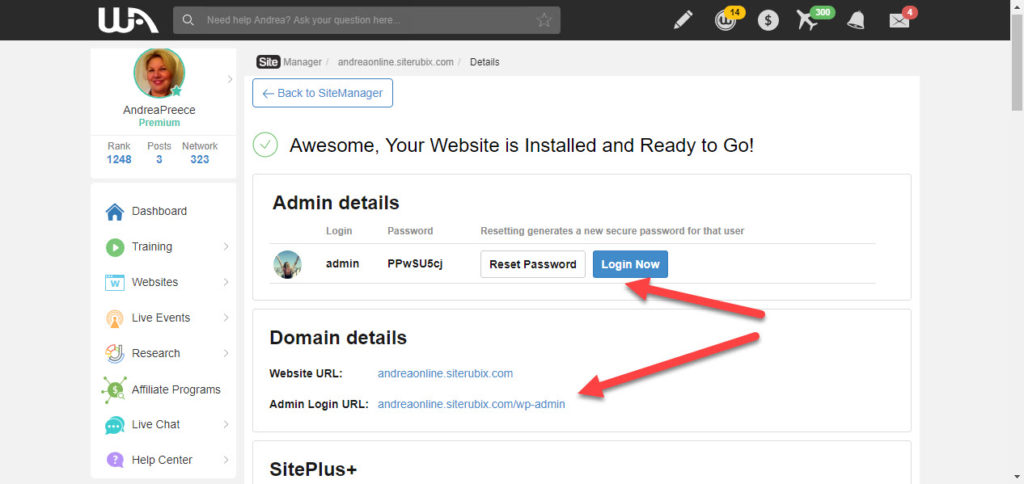 This, will automatically take you to your WordPress dashboard where you will customize your site as you like, there are tons of tutorials and it's really easy.
So the proof is there, in 4 easy steps you can have an awesome website. Get your Free membership and build it right now!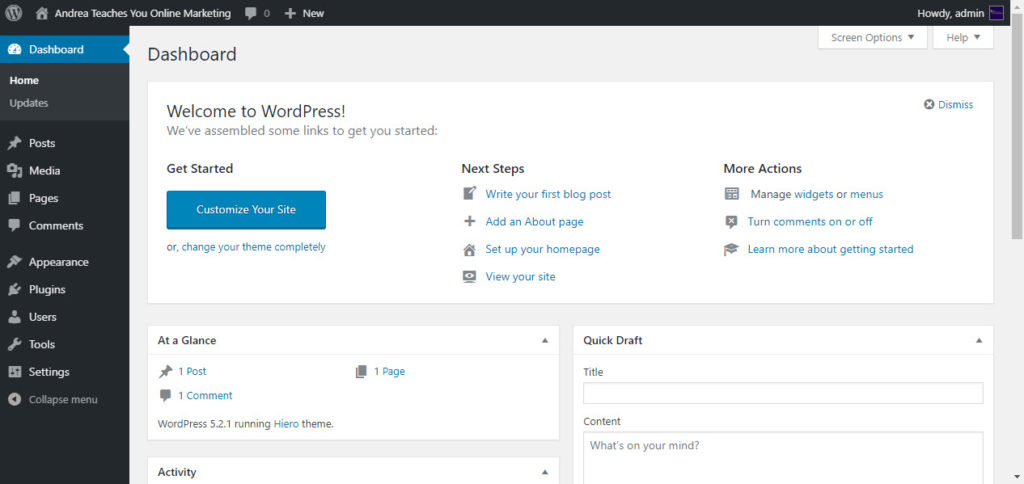 Next take a look at the frame of your website, with a few simple tweaks and a little content you'll quickly have a site that you love.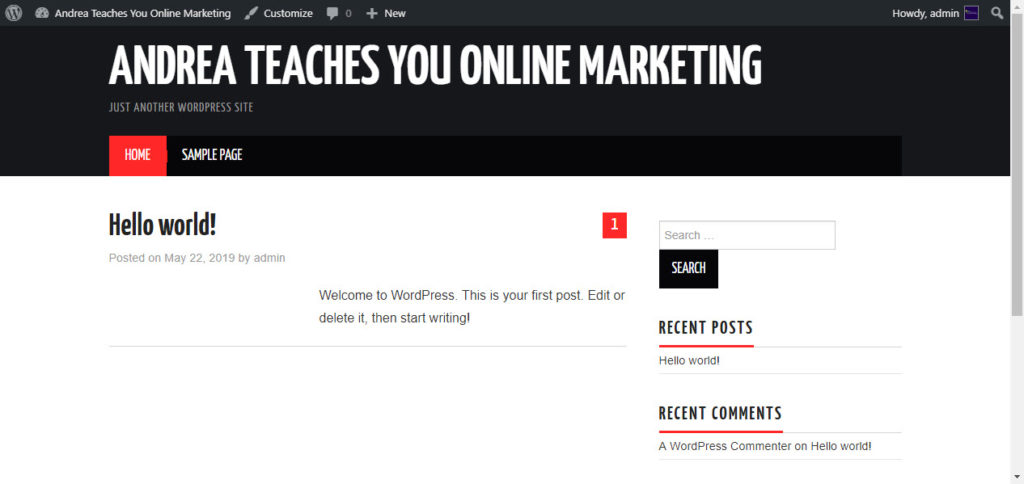 See how easy it is? Want to try it yourself? Here!

Features of Your SiteRubix Website
Built on WordPress
WordPress is by far the easiest and most popular CMS (Content Management System), it only makes sense that SiteRubix would use it as it's the best and they are a prefect compliment.?
WordPress sites are:
User friendly, managed with a simple dashboard

Very little learning curve with numerous tutorials as well as the one at the Wealthy Affiliate

One click upgrade to optimize performance

WordPress has thousands of free plugins (and themes) customize you site as you like
Responsive and Mobile Friendly Websites
SiteRubix builds websites that are mobile friendly. That means your website is responsive adjusting to look perfect on mobile phones and tablets.? With approximately 50% of web browsing on portable devices its important to give your visitors a great experience.
If you do not have a responsive and mobile ready website, you are missing out on a lot of traffic and that means potential sales.
SiteRubix Safety and Technology Features?
While you run your business SiteRubix technology works behind the scenes keeping your website up and running smoothly and safely.
Your Site-Rubix website is secure and protected,? so you don't have to worry malicious activity that All website are susceptible to, like hacking, spam and malware attacks. A essential feature even for the easiest website builder.
1000's of Themes to Customize Your Site
Build any kind of website you want with SiteRubix. There are 1000's of themes to customize your site. From pets sites, to ecommerce, blogs and more… whatever you choose you can create it.
With the ease of wordpress and Site-Rubix site builder you can change the look of your site with a push of a button you can do that…its all simple.
Support for Your SiteRubix Website
If you have tried building a website elsewhere, you may have run into design issues and technical glitches. There is always support for your SiteRubix website, so there's no? more wasting time, paying huge prices for a technical team or feeling alone and stuck.
How Can Access the Website Builder??
I'm glad you asked, with the easiest site builder around you wondering how you can get access to the website builder. Just follow these steps and you can get a website for FREE (no credit card, no irritating sales banner) just a genuine free site.
What if I Want to Build More Sites?
Once you see just how easy it is to build a site simply you can opt to become a premium member. Premium unlocks all features, extensive training (if you like), keyword research tools, professional emails, up-to 50 websites with premium features. All for a low price. Now you know how to access the website builder, let's get started and build a website!
Let's Build a Website for FREE!
First create your FREE starter member account (no credit card). It takes less than a minute, but to access it you?ll have to join Wealthy Affiliate (the owners of SiteRubix) Get Your FREE Account Here.
All you need is your: Name, email and create a password.
There are no gimmicks, up-sells or annoying ads) they are good people.
If you want to learn more about them read my Wealthy Affiliate Review 2019 The Best Way to Learn Affiliate Marketing
Why Do You Need to Become a Member
Wealthy Affiliates' SiteRubix is a first class site builder, complete with hosting, it's for people who want to build a website for their business. Unfortunately there are some people who access free websites, for shady practices.
Your email ensures safety and integrity for access to your professional site builder.
How Will I Access My Site?
You will login to your website with your email and password.
Can Anyone Get a Free Website
SiteRubix is a premium website builder and hosting platform that offers a free membership to anyone. With your free membership you can get 2 websites on the platform.
Premium members have access to 50 websites 25 of which can be hosted on their own domains. There are extra benefits of premium but all you need to do right now is build a website. Start Your Free Membership Here!
Start Your Website Build Your Business
Learning to build a website will bring you the confidence to take the next step in your business… and the next. Build a website that makes a statement, brings you pride and is a fully functional and integral part of your business.
Wealthy Affiliate takes care of the technical aspects, with its own professional support technologists.? It's included with each website you build with Site Rubix. get ready to make something great.
Conclusion – Isn't It the Easiest Website Builder Ever!
Watch the Video How to Create a Website in Under 30 Seconds
With the easy creation of the website you can focus on growing your business and work towards creating a life you want. Furthermore, Wealthy Affiliate host your websites.? Its a state of the art cloud hosting network that has been built around what online business owners need.